---
MAINALON MOUNTAIN

The Mainalo is a mountain range that spans about 15 to 20 from north to south (southwest of Tripoli to northeast of Vytina) and from east to west from 5 to 10 km (from Zygovisti to Kapsas).
Much of the area used to be covered in old-growth forests but most were burnt in 2000 and especially in September 2011.
In the medieval times and until the late-20th century, the mountain was known as Apano Chrepa. It is also a village which is located in the mountain range and dates back to the ancient times. The mountain is home to the skiing resort which is located in the middle of a mountain 20 km NW of Tripoli and 9 km SW of GR-74/GR-33, northbound. The elevation of the skiing resort is at 1,550 m. The panorama of the northern part of Arcadia and the Lyrkian mountains. There is a communications tower which broadcasts television and radio stations to Tripoli. It is located about 140 km SW of Patras, about 75 km S of Kalavryta, about 20 km SW of E65 superhighway, about 85 km (old: about 120 km SW of Corinth, 80 km W of Argos and about 90 km W of Nafplio, about 90 km (old: 100 km) ENE of Kalamata and about 140 km E of Pyrgos. The name of the mountain comes from a figure in Greek mythology. The mountain range is entirely surrounded by roads, the GR-74 runs around the Mainalo to the north and the east and a road linking Tripoli and villages W of Tripoli and to Vytina with a low speed limit is to the south and west. The western part west of Mainalo does not have much roads. The mountaintop which is also known as Ostrakia elevates at 1,860 m is in the northwest central part. Mainalo is also the tallest mountain in Arcadia. The highest mountaintop is named Profiti Ilia. The entire area is also a parkland.
NYMFASIA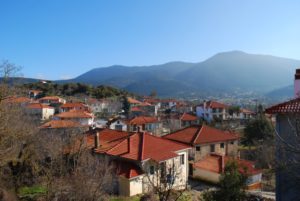 Nymfasia is a mountain village near Vytina a former municipality in Arcadia, Peloponnese, Greece. Since the 2011 local government reform Vytina is part of the municipality Gortynia, of which it is a municipal unit. Nymfasia village is located at the foot of the mountain range Menalon. The area is filled with beautiful Pine Trees an unparalleled scenery of green. Nymfasia is 8km east of Levidi, 17 km northeast of Dimitsana and 22 km northwest of Tripoli and just 2-3km from Vytina. The Greek National Road 74 (Tripoli – Pyrgos) passes by Nymfasia. The ancient Arcadian city Methydrion was located near Nymfasia.
DIRECTIONS